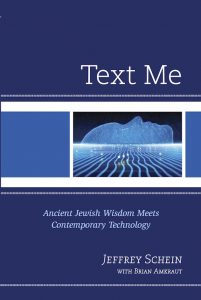 I'm so pleased to announce the publication of my new book, Text Me: Ancient Jewish Wisdom Meets Contemporary Technology. Written with my colleague, Brian Amkraut, Text Me is an ideal companion for individual or group exploration into the complex intersection of modern digital life and Jewish/humanistic religious values.
– Rabbi Jeffrey Schein
A special 30% discount is available through November 30, 2019, when you order directly through the publisher, Hamilton Press. Download this flier for your discount code and ordering instructions.
Critical Acclaim
"Finally, we have a resource that meets the needs of spiritual leaders and educators living in the digital age. In Jeffrey Schein's book, Text Me: Ancient Jewish Wisdom Meets Contemporary Technology, they will find theory, experience, and practice distilled into usable wisdom. What makes this book so critical is that it fills a void that is only getting larger. And with its real-life stories, it's an engaging and instructive read for which rabbis and religious educators of all faiths will want to make time."
– HAYIM HERRING, author, organizational consultant, and educational futurist
"Schein's book offers religious leaders a resource for critically engaging the changes taking place in a thoughtful and practical way, exploring in depth particular aspects of technology and resources of his own faith traditions. While written primarily for a Jewish audience, the insights and understandings of each of the chapters provide insights Christian and Islamic religious leaders can reflect on, as well as a model of interdisciplinary engagement other faith traditions could reproduce within their own sacred texts and writings."
– TERRI ELTON, associate professor of leadership, Luther Seminary, St. Paul, MN
Get a taste of the Text Me book on video
!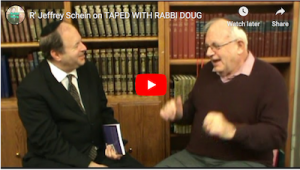 Technology is a nes gadol – a great miracle: If you can't get to any of Rabbi Schein's webinars or in-person presentations, you can get a taste of the Text Me book's themes when you watch the interview between Rabbi Jeffrey Schein and Rabbi Doug Zelden for Rabbi Doug's Chicago-based tv show.